Energy Audit Services
*Until further notice, 

I will only be 

serving New Construction Builders, as well as certain Thermal Imaging needs.*
Insulation Specification… "The Energy Audit Specialist"

Estimates from contractors can come with lots of hidden surprises. But with The Energy Hound, your exact comfort needs will be met…without excess. Our independent services can specify weatherization measures to offer relief from discomfort, high energy bills, window leaks, roof leaks and ice dams.  Proper insulating BEGINS with finding air leaks (blower-door test) so that your insulation actually does what it's supposed to.  Then thermal imaging and a video scope are used to help you become aware of hidden issues and be confident with your home's needs.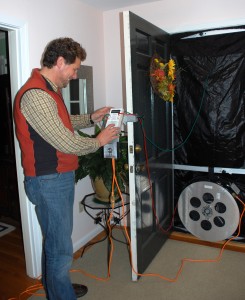 Energy Leak Test
Blower door/Air Leak Tests

Air leaks can be found and fixed at any time of the year and in any weather.  We scientifically measure them with a Blower door, a high-speed fan, door seal, and computerized pressure module. This creates a vacuum and instantly displays the leakage rate.  We then compute the frequency at which your home exchanges its total volume of air with the outdoors. The Energy Hound will then walk you around your home and let you feel for yourself, literally, the places air leakage occurs. Some areas may show slight drafts while others may prove to be more severe problems. We will measure these, explain their total effect on your home, and document how each leak can be economically corrected.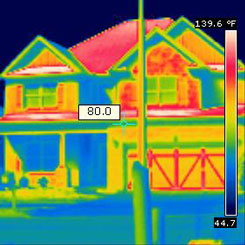 Thermal Image
Thermal Images & Video Scope
Infrared thermal imaging is effective in ANY season when used by a skilled technician.  With just a few-degree differential, the camera helps diagnose where insulation is not doing its job or if your home has moisture problems from a leaky roof.  It detects how readily surfaces give off heat and can be used both outdoors and indoors with heating or air conditioning.  And our Video Scope is used to actually SEE into wall cavities. We use both to reveal:
compressed insulation where fiberglass loses as much as 60% of its R-value
settled insulation producing gaps hidden within walls, floors and ceilings
wet areas from rain or leaking pipes.
Most home energy audits do not use either of these types of detection but is part of our quality service.  Thermal-imaging can be used with an audit or as a stand-alone service at a reduced rate.  Special 1/2 hourly rates are offered to homeowners who need to quickly find a leak in their roof or pinpoint where to make a small drainage hole in their ceiling to minimize expensive water damage.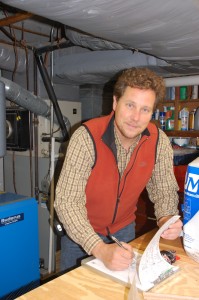 Data Collection
Cost/Benefit Action Plans

An energy audit is the leading way to save 20-40% on monthly bills. Using the award-winning Home Energy Tune-Up® software from CMC Energy, we compile over 100 details about your home's air leakage, insulation, appliances, and utility systems and compare your home's potential gain in efficiency against the expense incurred for each possible improvement.
An Energy Hound Audit zeros-in on priorities –the smartest, most economical solutions for YOUR unique situation, and gives you a written Cost/Benefit Action Plan that you can use to make clear sense of your home's possible performance… but be forewarned!–homeowners are often surprised by the results we reveal, finding the greatest energy wastes in unexpected places!
Included is a list of payback periods for each measure.  You can be sure of your decisions BEFORE you spend valuable time and money.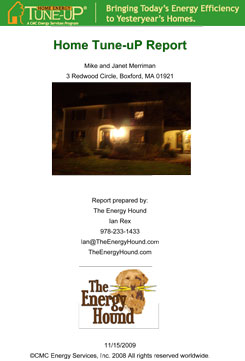 Cost/Benefit Analysis
Detailed Custom Reports
We document our findings (data and qualitative) in a concise, easy-to-read format with photos and bar charts. They are provided within 2 days and include:
Analysis of each energy problem stating the difference b/n harmful and healthy air leaks for a comfortable, efficient home
Proposed solutions and the opportunity to reach our recommended contractors
Payback periods: Comparison of how long each measure will take to pay themselves off
Cost/Benefit list of measures you can take based on their effect on your home
Clear Communication of scientific principles and how they apply to your home.
Read about the highly-accurate, industry-acclaimed Tune-Up® in-the-news and review a sample report: www.CMCenergy.com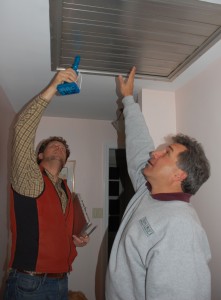 Consultation
Consultation
Whether you are a Do-It-Yourselfer or want us to manage a job for you, The Energy Hound will offer proven, scientific advice in language that can be understood by everyone. We will:
Review possible measures you can take to achieve results you want
Communicate with contractors to make sure a job is done right
Approach contractors for you if they have recently done a poor job
Give labor referrals of trusted workers
Offer guidance on financial solutions.
While much of our consultation work is identifying poor initial construction and overseeing contractors, we can also give homeowners the confidence to do a great job themselves.
Continued Client Care
Follow-through:  we'll answer questions about your custom report anytime and are available for further consultation.  When we complete an audit, we don't disappear from the scene.
Unlike with quota-driven auditors, continued care is our specialty…
Labor Referrals/Aid in selection of contractors
Financial Solutions, as well as help getting a $1500 Federal Tax Credit
Do-It-Yourself Assistance – consultation packed-solid with advice and how-to's
Priority Planning – talk it over with us to select what will work best for your lifestyle.
ENERGY STAR
We are proud to provide rating services to qualify new homes for the ENERGY STAR® label. ENERGY STAR qualified new homes are substantially more energy efficient than homes built to the minimum code requirements.
Benefits of owning an ENERGY STAR qualified new home include:
A Label Backed by the Government: All ENERGY STAR qualified new homes are certified to meet EPA's strict guidelines for energy efficiency. This exemplary performance is verified by an independent third party.
Lower Utility Costs: Compared with standard homes, ENERGY STAR qualified new homes use substantially less energy for heating, cooling, and hot water heating. Homeowners can expect to save about $200–$400 annually on their utility bills.
More Comfortable/Quieter Homes: The energy-efficient features of ENERGY STAR qualified new homes keep out excessive heat, cold, and noise, and ensure consistent temperatures between and across rooms-making these homes more comfortable to live in.
Features of our ENERGY STAR homes include:
Effective Insulation — Properly installed insulation that meets or exceeds national code requirements helps achieve even temperatures throughout the house while using less energy. The result is lower utility costs and a quieter, more comfortable home.
High-Performance Windows — Advanced window coatings help keep heat in during winter and out during summer. They also block damaging ultraviolet sunlight that can discolor carpets and furniture.
Tight Construction and Tight Ducts — Attention to detail by sealing all holes, cracks, and seams in ducts and construction assemblies helps eliminate drafts, moisture, dust, pests, and pollen. This improves comfort and the quality of indoor air, while lowering maintenance costs.
Energy-Efficient Heating and Cooling Equipment — More efficient and properly sized heating and cooling systems use less energy, which reduces utility bills. These systems also turn on and off less frequently, removing more humidity and providing better comfort.
For more information on ENERGY STAR qualified new homes, contact… Ian Rex at 978-233-1433
Learn more about ENERGY STAR qualified new homes at http://www.energystar.gov/.
Ian Rex, Owner/Auditor
– Insured & Certified –
(888) 364-6863
(978) 233-1433
11 Broadway,  Beverly  MA  01915
3992 Penn Ave, Reading, PA